Welcome to St. Patrick's Roman Catholic Church
"For whatever was written in former days was written for our instruction, so that by steadfastness and
by encouragement of the scriptures we might have hope."
– Rom 15: 4
Faith studies help us to strengthen our relationship with God. While we study the bible and our Catholic faith, we gain better understanding of God and His plan for our salvation. Guided study of God's word helps us better understand His teachings and provides us with tools for our daily lives. 
Our weekly Faith study groups have had to move to an online meeting format. Each group right now is at (or near) capacity. If you would like help with starting up your own study group, please contact the parish office at parish@stpatrickcalgary.com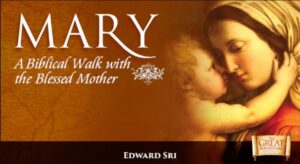 Mary: A Biblical Walk with the Blessed Mother
Filmed on location in the Holy Land, in eight videos Edward Sri provides a captivating look at the life of Mary the Blessed Mother and an explanation of our Catholic beliefs about her.
Online access to these videos is just one part of the program. The Study Set contains the study questions, responses, and talk notes needed for the study.
Weekly study and video topics include:
Introduction
The Annunciation: Luke 1:26-38
The Visitation: Luke 1:39-56
The Nativity: Luke 2:1-20
The Presentation and the Finding of Jesus in the Temple: Luke 2:21-52
The Wedding at Cana: John 2:21-52
Mary at the Cross: John 19:25-30
Mary Crowned with Glory: Revelation 12C
Must pre-register. Limited enrollment. Materials & Online video access $40.
Weekly online meetings: 10:00 AM To 11:30 AM
Wednesday, January 11, 2023 to March 8, 2023
       (no session on Ash Wednesday, Feb 22)        
For information & registration contact the Parish Office: parish@stpatrickcalgary.com